This exact recipe would never be found in Vietnam. Never eaten by a Vietnamese person, not even by someone who happens to know someone else who has a friend who has been to Vietnam. Actually, I have had this rave about why I don't always follow authentic recipes when I wrote up my Harissa recipe.  This Vietnamese soup is a collection of spices and herbs I use to perfume a broth along with chicken. I make it often; every time I tell myself "today is the day I start my health kick."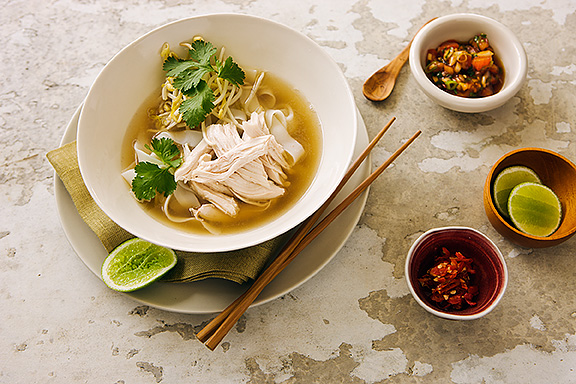 Photography by my good friend, Dean Cambray
Serves 10 – 12
INGREDIENTS
1 Whole chicken, size 16
1 large piece cassia bark
¼ of split nutmeg
½ cup ginger, thinly sliced
5 cloves garlic, crushed
2 coriander roots, split
1 teaspoon cracked white peppercorns
4 or 5 whole star anise
1 dried chilli, whole
5 spring onions
¼ cup palm sugar
1 large onion, sliced
1 cup Shao Xing wine
Flat rice noodles
Lime wedges
Extra fresh chilli to serve
PASTE
Fresh red chilli, to taste
½ cup coriander, chopped
5 eschallots, finely diced
2 tomatoes, diced
¼ cup soy sauce
½ cup Hoisin sauce
½ cup Oyster sauce
METHOD
Put Cassia Bark, nutmeg, ginger, garlic, coriander root, white peppercorns, star anise, chilli, the green parts of the spring onions, palm sugar, onion, Shao Xing wine and chicken in just enough water to cover. On medium high heat bring to the simmer then turn down heat to barely simmering. Poach on a very gentle heat with the lid on for 40 minutes. Switch off the heat and leave in the pot with the lid on also, for another hour to finish cooking. This, by the way, is the best way to cook a whole chicken and still retain amazing succulence. When cool enough to handle, remove the chicken from the liquid and shred the meat into long attractive strands, and keep aside. Strain all the flavourings from the soup and heat when ready to serve.
To make the paste, slice the white part of the spring onion thinly and place in a bowl. Add the fresh red chilli to taste, also sliced thinly. Add the coriander, eschallots, tomatoes, soy sauce, hoisin and oyster sauce and mix together.
Cook the rice noodles according to the instructions.
To serve put the hot noodles in a large bowl, add some chicken, then add some of the paste, and ladle the very hot soup stock over. Squeeze a lime wedge over and top with some fresh chilli.