Do salads make one's mouth water?  Isn't that the job of other categories of food? For instance, "On the specials board today, Sir we have a mouth watering pasta of braised lamb shoulder, fennel and roasted tomatoes". Yeah, I think that's right. Salads are supposed to evoke a different adjective.  "Why not try our incredibly fresh and light salad?" or what about "Today the chef has composed a salad using, I don't know…  lawn clippings, a mouse and a fridge magnet." That's it. They're composed or assembled, sometimes tumbled, never naked (always dressed, that is) and tediously healthy. Never mouth watering. This means only one thing. I need to see a mouth doctor, because as I was tumbling my composition of assembled ingredients I was salivating at the bit.
This salad needs to be served in its pool of crimson juices and with a spoon (rather than knife) alongside a fork. It's a plate hog and won't tolerate another companion that isn't prepared to be stained. I am quite happy to plate up everyone's salad in, say a little ramekin, alongside the main. Grilled fish comes to mind.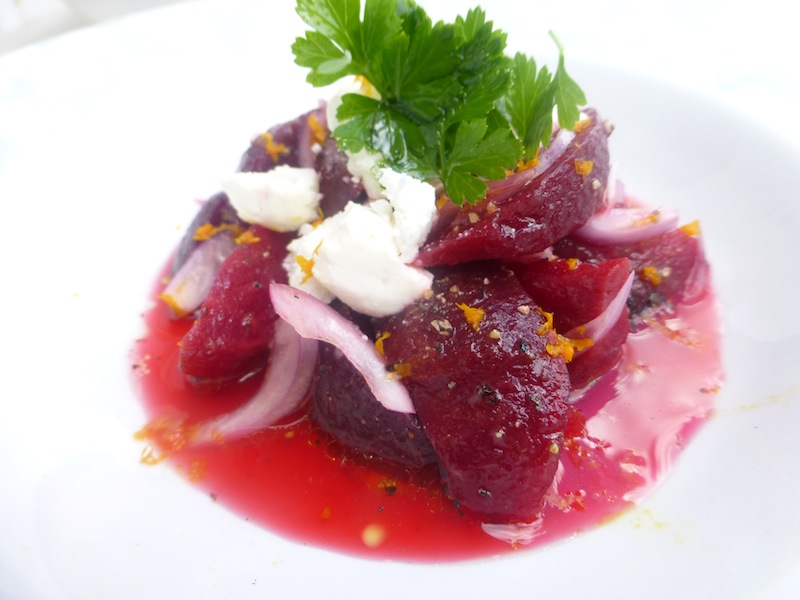 For four generous serves.
INGREDIENTS
2 medium beetroot
Juice of 1 luscious orange
Zest of 1/2 orange. Who cares if it's luscious, just washed and dried.
2-3 Tbsp great olive oil
2 shallots, finely sliced
4 Tbsp crumbled fetta
Good salt and freshly ground pepper
Young parsley leaves
METHOD
Wrap the beetroot securely in foil and pop into a 170°C oven for at least 50 minutes until it becomes tender and soft. Keep cooking until a skewer can easily pierce through the foil and beetroot.
When cool enough to handle, use gloves (or make up a story about blood on your hands) to peel the beetroot and then cut into bite sized pieces. This is because we have swapped the knife for a spoon, so no more cutting to be done on the serving plate.
Tumble the beetroot through the salt, pepper, orange juice, shallots and olive oil and assemble in the centre of a serving plate.
Scatter on top, the fetta and parsley and freshly zest some orange rind over.
Simple!