One of the reasons I like this soup is that it's not blended. Apart from retaining it's texture, giving the sense of being more like a meal in itself rather than a first course, it also retains a deeper red colour. This is because once you blend tomato soup you begin to emulsify oils and water into the soup and lighten the colour, making it more pinky-orange. Even though the taste will still be good, the appearance is less appetising.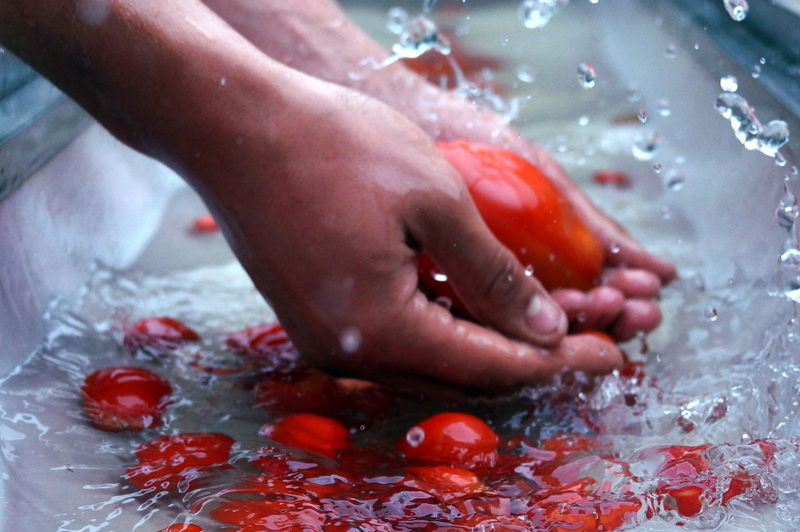 3kg very ripe tomatoes, skinned
4 cloves of garlic, sliced very thinly
1 red onion, finely diced
1 red capsicum, finely diced
1 tsp fresh oregano
1 tsp fresh thyme leaves
½ tsp cracked black pepper
1 Tbsp tomato paste
2 bay leaves
½ tsp smoked paprika
¼ cup extra virgin olive oil
Salt, red wine vinegar and sugar to taste
2 sweet yellow peppers
Scatter your herbs over two baking trays, and drizzle over 2 tablespoons extra virgin olive oil.
Place on top the peeled tomato halves and smear the tomato paste onto the surfaces of some of the tomatoes.
Sprinkle over a little salt and then 2 more tablespoons of oil, and roast at the hottest setting of your oven, around 240°C for 15 minutes to start charring the surface.
Meanwhile, cut the onion and capsicum into a small dice, coat with 2 tablespoons olive oil, a sprinkle of salt, and 1 teaspoon white sugar and toss to coat.
Scatter the onion and capsicum mix over the roasted tomatoes, along with the whole, long sweet chilli peppers and return to further roast until everything is attractively charred, say a further 15 minutes. Then remove from the oven.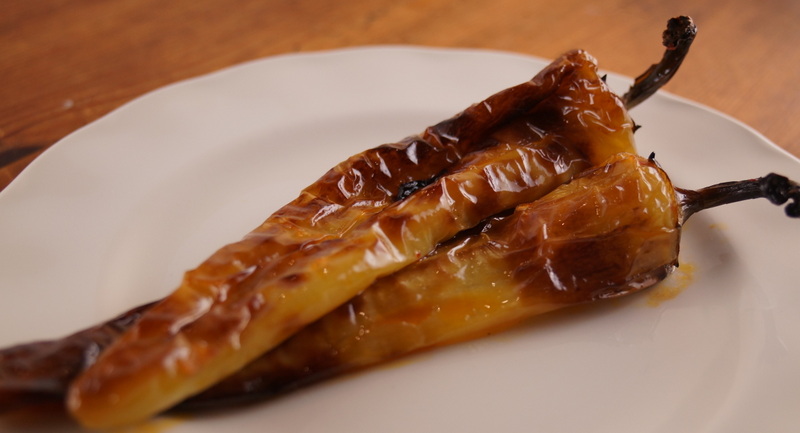 Remove the long sweet chilli peppers and peel off the skin. Remove the seeds and tear the flesh and keep aside as the garnish. I like to coat the strips in a little oil to make them shimmer for presentation.
Tip the contents of the baking trays into a large pot, mash with a potato masher, and bring to a simmer.
Add salt, sugar, red wine vinegar and smoke paprika to taste.
Simmer a further 3-4 mins and serve, topped with the pepper strips, some fresh coriander or parsley and drizzle with extra virgin olive oil.