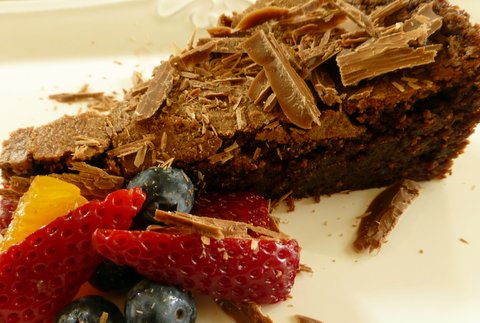 I'm eternally embarrassed looking at anything I've done in my previous television life, however this cake warrants me reliving the painful experience. Highly recommend for your next chocolate baking hit.
INGREDIENTS
250g unsalted butter, melted
250g caster sugar
5 eggs
175g dark chocolate
180g almond meal
1 1/2 teaspoons baking powder
3 tablespoons good cocoa powder
Dutch cocoa, for dusting
METHOD
Preheat the oven to 160°C. Line a 28cm springform cake tin with baking paper. Grease the tin and sprinkle flour evenly across the bottom and up the sides.
Beat the butter and sugar together until creamy, then add the cocoa powder.
Gradually add the eggs, beating well after each addition.
Place the chocolate in a double boiler over a gentle heat. Melt.
Add the almond meal and baking powder and blend into the butter, sugar and egg mixture. Fold in the melted chocolate and combine well.
Pour the mixture into the prepared tin and bake for 50-60 minutes. The cake will be cooked when a skewer inserted into the centre comes out clean.
Dust with a good coating of Dutch cocoa and serve with a dollop of double cream.
Note: this cake is designed to rise then fall in the oven, leaving the cake rich, dense and moist.