This again is a knock out combination. Please forgive my enthusiasm; I have such a passion for food and flavours that it must seem as though just walking past anything edible will set off a feeding frenzy of gushing desire. The reality is when I encounter matches made in heaven that end up on a plate, I actually do fall head over heels and have a vicarious experience just writing about it. Just know it is genuine and you can trust my enthusiasm, because after all, nothing will be included on the site if it doesn't drive me to some kind of ranting extreme.
Back to the food. Lamb neck fillet is almost a misnomer. Are you sitting down?  Because the lamb neck fillet we're using in this recipe actually lies under the shoulder and joins the neck. The neck, as far as my research goes, is only highly prized by the lamb itself. For instance, if I were to strangle a lamb, (stopped that sort of thing years ago) I would not actually have my hands on a lamb neck fillet; I'd have the neck itself (a prerequisite to qualify as a proper strangling). This is bonier and seems to be relegated to meat bones for dogs and for soup to some extent.  So, you can see the confusion. It's entirely possible that you could ask an inferior butcher, one with about 4 fingers, to "bone me a lamb neck please" and you would end up with the wrong cut.  Ask specifically for the lamb neck fillet that runs under the shoulder and joins the neck.  Phew, I need to lie down.
This lamb neck fillet is one of my absolute favourite cuts, stacked with flavour. Coming from the forequarter, and therefore the sweeter part of the beast, it delivers the true flavour of lamb.  It is as important an ambassador as is Pork Belly to the pig. Lamb neck has a wonderful little combination of sections, each contributing its complexity and thus providing a broader tasting experience. Simply cooked and partnered with my relish, it will blow your mind. Provided, you cook it properly.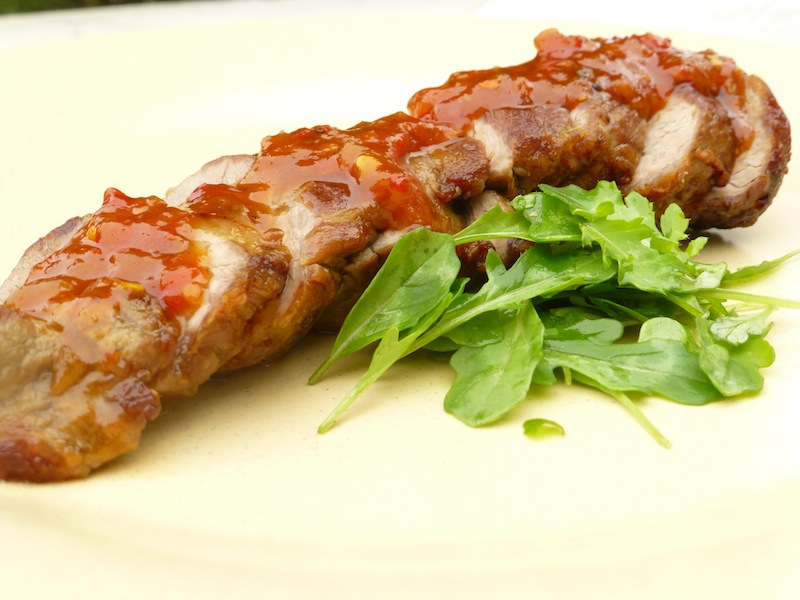 INGREDIENTS
2 lamb neck fillets (to get the right cut, for God's sake read the above preamble, it nearly killed me) weighing about 250-300g
A little olive oil for cooking
Salt
My Spiced Tomato Relish
METHOD
Pre heat oven to 210°C
Heat a heavy based, oven proof fry pan to searing hot. I love my seasoned cast iron pans for this.
Separately smear the fillets with very little olive oil and sprinkle all over a reasonably scary amount of the best quality sea salt. This really aids in a flavoursome crust.
Sear on all sides in the smoking hot pan. Because you haven't added oil first and there is only a small amount coating the surface of the meat, things shouldn't splatter too much. Smoke alarms, however are another matter.
On the final turn, once all other sides have a wonderful dark brown crust, put everything into the oven and quickly shut the door to prevent heat loss. Leave everything undisturbed for 13minutes (250g fillet) and no more than 15minutes (300g and slightly upwards). Time enough to have a beer with the firemen.
Remove from the oven, and leaving the lamb in the pan, make a reasonably  tight foil tent over everything. Be careful. I use t-towels to fold the foil over the pans edge. Some un-crimped edges are fine. Leave to rest for 10-14 minutes. See the benefit of the heavy based pan; the meat remains warm.
Carve, as per photo and dollop along or beside, my Spiced Tomato Relish. Serve with a green salad and fresh bread.