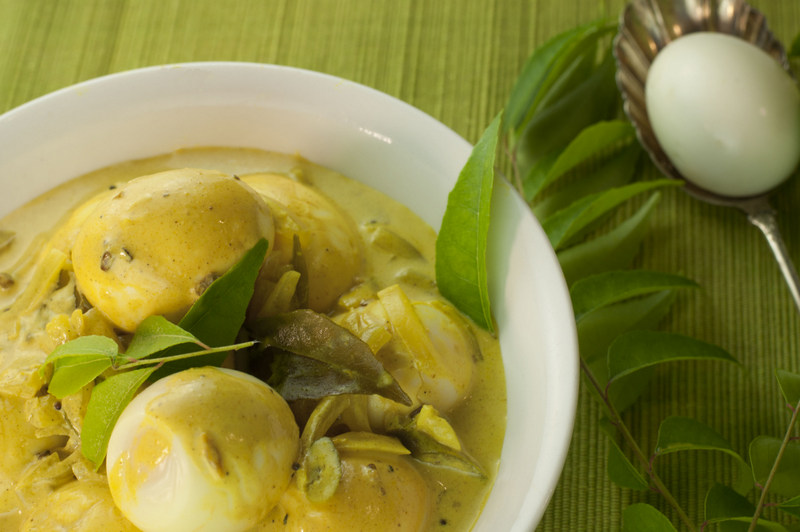 INGREDIENTS
3 tbsp Ghee
1 very large white or brown onion cut into slices
10-20 curry leaves
2-3 mild or hot green chillies, chopped
1/2 tsp mustard seeds
1/2 tsp fenugreek seeds
3 whole cloves
6 cardamon pods
1 tsp Maldive fish
If you dont have the mustard, fenugreek, curry leaves, you can still make a very good version of this curry.
2 tsp tumeric powder
3 tsp my curry paste or a mild Sri Lankan Curry Powder (Larich is a popular one among Sri Lankan expats)
2 x 400ml tins coconut milk, or 400 ml coconut milk and 400 ml water if you prefer it lighter
300 ml light chicken or vegetable stock (believe it or not, the Asian Chicken Bullion powder or a chicken stock cube works quite well)
8-12 hard boiled eggs peeled and left whole
2 heaped Tbsp fresh dill fronds
1 large ripe tomato diced (peeled if you wish)
salt to taste
METHOD
Melt the ghee on medium heat and add the onion, chilli curry leaves and if you have them, mustard seeds, fenugreek, cloves, cardamon and Maldive fish.
Cook on very low heat without browning anything ( this is important to maintain the vibrant yellow turmeric colour). Now add the tumeric , curry paste, coconut milk, chicken stock and some salt to taste. Let simmer on low heat with lid off for 15-20 mins, tasting and adjusting the salt
Drop in the eggs and simmer a further 10 mins Finally, before serving add the fresh dill and chopped tomato , heating through to the simmer .
Serve with Pol Sambol and rice. Coconut milk rice is best: simply add a can of coconut milk and extra salt to your just cooked rice and cook with lid on very low heat till absorbed, say 5 minutes.
See my other Sri Lankan Curries and accompaniments for this dish.
Image Antoine Moreau