Three years ago these birds, or their parents, ate EVERY apple over one weekend. No wonder I ran out and shot them…. with the camera that is.
Even netted, my fruit presents a small challenge to aerial raiders . Rats with wings! Here's evidence that a pointy beaked species has pecked the fruit pressed against the netting and therefore still accessible. No big loss, but worth a mention. My netting allows sunlight through which ripens and enriches the fruit however as you can see doesn't offer protection from the fierce rays during recent heat wave conditions. Again, no big loss.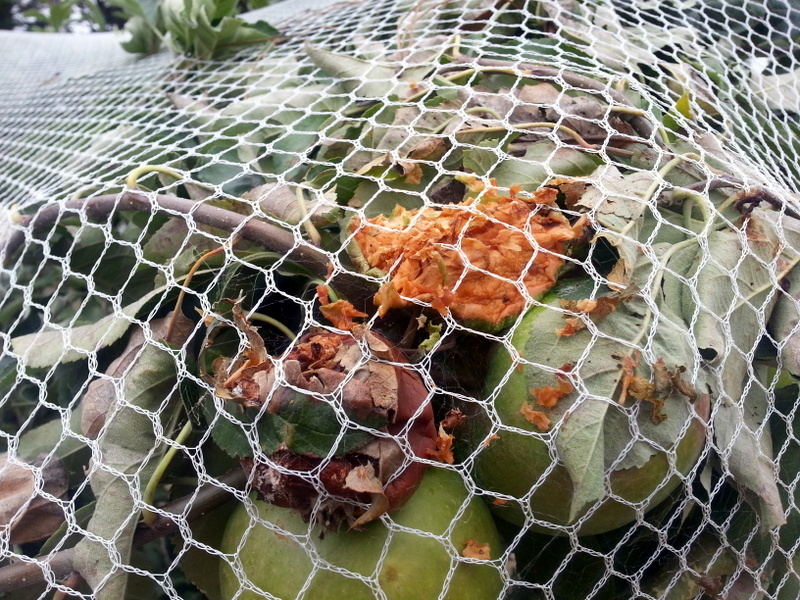 The "big daddy", the B52 bomber of the blitzkrieg is the "sulphur crested cockatoo" If you weren't on their flight path, it would be easy to be entertained by their attitude and antics. Raucous , mischievous, acrobatic, fearless (compared with other winged thieves), handsome and determined. When you have an orchard they're devious, cunning, stealthy, destructive and wasteful . Have a look at this guy…. you probably can't make it out, but walking along the netting like a trapeze artist on a safety net, this bird brain is tugging the cable ties we used to sew the nets together. What the ! Clearly they're clever and hats off for that. But just add them to the long list of enemy forces to contend with should you wish to grow noticeable quantities of great Australian fruit. Babaganoush (our Labrador) is currently being fitted with a jet pack.