Courtesy of Gerald from Bonaccord Ingram Co in East Gippsland.
A few weeks ago I decided to drive to Bairnsdale and meet the Elders team there. I currently hold the land speed record for driving over Mt Hotham in an effort to be on time for dinner after the road was closed for 2 hours. Anyway, Noel took me to visit some of the wonderful farms in this lush part of the world. There's a point I've been making over the years and I'd like to develop it further through the website and eventually an e-magazine being planned with photographer Dean Cambray (more later). That point is that inside every big farmer there is a small farmer. Perfect evidence of this was in the form of Gerald and Murray from Bonaccord Ingram Co. Although hands on and flat out delivering wonderful produce to a very large market, we were able to connect on some really important stuff. I made a passing comment that corn was generally lacking flavour these days; that varieties were heading towards being sweeter (Supersweet Me!). Gerald did a cartwheel in agreement. He gave me a bag of seeds of corn that didn't follow this shallow trend and they're planted next to Jacinta in the photo below.
We went on to tackle onions, beans and special tomatoes. Couple this with the seed and seedlings given to me by local horticulturist Dave DiMarco, I have two rows of Bairnsdale "hero" produce alive and growing. Soon I will post a simple but amazing cabbage salad using the Bairnsdale cabbages.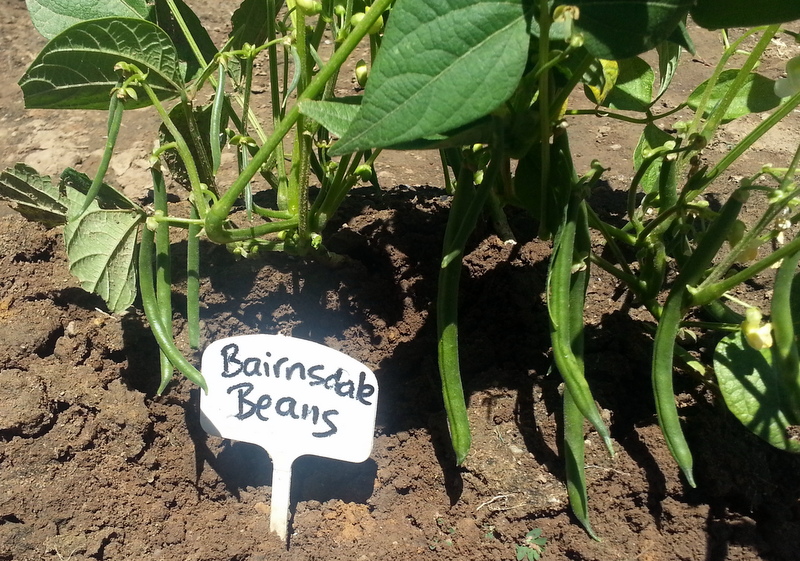 Well, here are the beans. Following Geralds instructions I planted them differently; in straight rows but this time each seed only 5cm apart, instead of 20cm. One hundred percent germination was expected, but I was delighted with the heavy cropping. Each bean seemed identical in size to one other, which some in the restaurant trade could consider an advantage. To me? Not so important. However, the flavour was outstanding.  Raw, they were crisp, luscious and full of deep earthy bean flavour. Cooked, even better. I will find out from Gerald what variety they are and if generally available.