On Sunday 12th October, two young city dwelling professionals launched the Brewery Yard Markets in Central Park, Sydney, Chippendale. 20 somethings, Jacob and Rupert, created a buzz with a young, fresh and dynamic marketplace on the lawns of the Central Park hub, alive with a constant stream of  bands on the main stage, stall holders displaying an eclectic range of food, fashion and craft.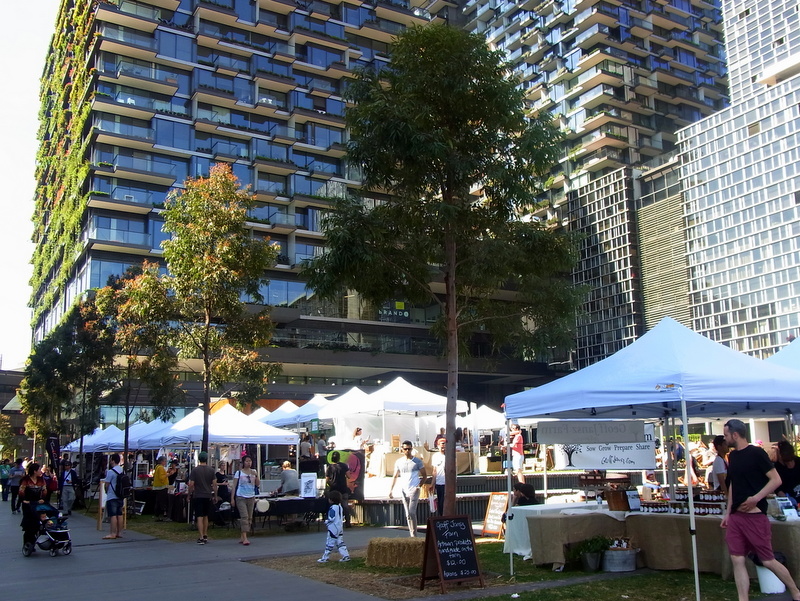 Geoff Jansz Farm was delighted to play an ambassadorial role with the food served there. Ambassadorial in this sense: the surrounding buildings and courtyard space beneath have been designed to  be clean, energy efficient, green and sustainable, an amazing urban innovation that will hopefully inspire more of it's type. Geoff Jansz Farm is based on these same principles. But more than this, we strive to showcase the produce provided by other small farmers who also care about beautiful flavours prepared in ethical and sustainable ways. We use these ingredients in combination with our farm grown produce to serve wholesome food on the day.
For the innaugural markets, we featured Salumi Chorizo and Egg Rolls, amazing start to the city morning made with lettuce and  slaw from our garden, mayo that I had made the day before and extraordinary eggs from Dunollie Rare Breed Farm Eggs.  Look at the amazing blue and olive coloured ones, all the same inside though, fresh and vibrant yellow yolks. Furthermore we provide contact details to anyone wishing to procure this produce beyond the  fortnightly Sunday markets.
Look out Sydney…. we small farmers are coming to you!
Next market is on Sunday 26th October. If you can't make it, you can always order our range online.