On my recent field trip to Bairnsdale where I was asked to taste and test new varieties of salad ingredients that various seed companies were offering to growers, I caught up with Nicola Watts, Executive Officer from the East Gippsland Food Cluster Inc. I had sent my request trough for great tasting Australian garlic bulbs for me to grow. Most of the store bought garlic seems to come from abroad and I am never certain whether it has been sprayed or not. I've heard that some countries allow the spraying of a retarding agent, which prevents the garlic from sprouting. True or not, I don't know, but I'm not inclined to take the risk of planting out the one crop for the year only to have it fail. Back to Nicola. She presented me with four Australian grown, unsprayed samples of garlic. A quick scan of the diary to check I wont be speaking in close quarters with anyone and I started my garlic tasting.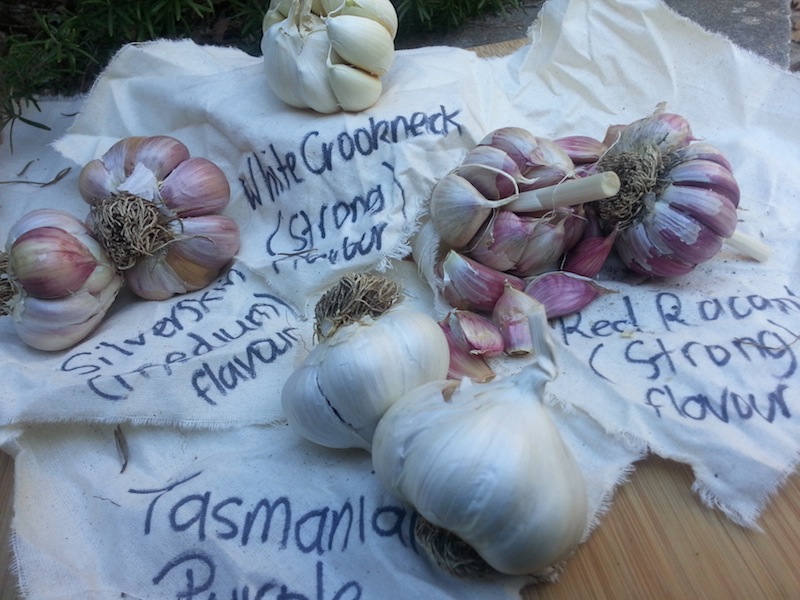 PRE-TASTING NOTE:
Two characteristics in particular jump at me when tasting garlic. First, an appealing garlicy sweetness, typical of the onion family, but particular to garlic. It's retro nasal, meaning the flavour fills the mouth and then travels back through to the nose… Very nice. Second, there's a bite. A sulphury, verging on mildly bitter, pungent bite. If you want an analogy in the food world, think of a surface ripened cheese, like Brie. As it ages, the surface becomes more pungent. Some like this, some don't. The garlic bite isn't a surface thing; it's intrinsic in the clove. Personally I don't mind it and I suppose it's connected with the "strength " of that particular variety. To me this is a mistake because I very much want the strength of the first characteristic to be at the fore; the appealing sweet garlicy flavour with the pungency bringing up the rear, contributing a firm promise of a night alone on the couch.
TASMANIAN PURPLE
Great, large, somewhat flattish cloves, all shiny and heavy. Not a small clove in the head, which, to me is a joy; nothing more frustrating than peeling 6 or so miniature cloves per head of garlic. The flatter cloves seem to fit more snuggly together in the head, which means they're a little more difficult to prize apart.
FLAVOUR: A very good garlic in my opinion, however, the pungency slightly outweighed the garlic's sweetness
7.5 out of 10
SILVERSKIN
Contained a few little cloves right up to some large ones in each head. There were a few cloves that were rotting, but the ones around it were heavy and full.
FLAVOUR: The Silverskin was the mildest and sweetest. Very pleasant to eat, but could use a little pungent kick
8 out of 10
WHITE CROOKNECK
These were large cloves of equal size that were easy to separate and with a space between cloves, making it easy to snap off a desired quantity.
FLAVOUR: This is a garlic of two halves. At first, nothing but the wonderful sweet garlicy flavour but finished with a lingering pungent bite.
9.5 out of 10
RED RACAMBOLE
Equal in size, around 12 cloves per head, these were also easy to separate.
FLAVOUR: Both sweet and pungent, however the pungent bite slightly outweighed the pleasant sweetness.
8.5 out of 10
WHAT I WANT FROM GARLIC
FLAVOUR
Must taste like garlic. That's not as bleeding obvious as it sounds. When on panels for tasting olive oil over the years, our tasting charts required us to assess "oliveness". So garlicness is big on my list. Also, there needs to be the absence of taint; mustiness, sulphur, dirt, for example. Another thing, strength and persistence of garlic flavour are important to me. Don't fancy peeling a thousand cloves to make garlic bread for Harry's mates.
SIZE
As stated above, not too many little cloves. Pure lazy Geoff writing this, but fair go, domestic cooks. We at GJ Farm have to cook for 250 special guests from time to time and although nothing will make me reach for a jar of garlic paste (rather cut out my own spleen), grant me the desire to peel as few as needed.
GROWABILITY
As with my other crops, selecting the best samples/specimens to be stored for growing next years genetically improved (hopefully) batch is front of mind for this little gardener cook. If you're nervous about the term "genetically improved" don't bundle me in with those who manipulate genes. I'm more like Gregor Mendel who selected the best samples to grow and hopefully promote their superior qualities.